Available nationally for virtual workshops
Training Request
We currently offer 9 types of training modules. Our modules range from deaf culture for hearing service providers to domestic violence and sexual assault training for deaf providers.
Training Topics
Our training modules are topics we have prepared materials and presentations for. If you are interested in a topic not listed here, contact us to discuss a potential training.
Deaf Culture and Domestic Violence

Understanding cultural and communication norms within Deaf culture is critical for addressing domestic violence in this community.

What is the Deaf Hotline?

The Deaf Hotline is a vital resource for members of the Deaf community who may face barriers in accessing traditional crisis hotlines due to communication or cultural differences.

On Healthy Relationships

Promoting healthy relationships through education and skill-building can help individuals and communities prevent domestic violence and promote overall well-being.

Deaf Awareness

Understand and appreciate the experiences, needs, and strengths of the Deaf community, and foster more inclusive and respectful communication and interactions.

Domestic Violence

Recognize and respond to signs of abuse, support survivors, and prevent further harm.

Working With Deaf Survivors

Equip advocates and service providers with the knowledge and skills needed to provide accessible and culturally responsive support, empower survivors, and promote healing and justice.

Consent and Boundaries

Help individuals understand their rights and responsibilities when it comes to sexual activity, prevent sexual violence, and promote healthy relationships.

Trauma-Informed Care

Better understand the impacts of trauma on individuals and communities, and provide more compassionate, empowering, and effective support.

Bystander Effect & Intervention Work

Empower individuals to recognize and safely intervene in situations where someone may be at risk of harm, and help create a culture of safety and respect.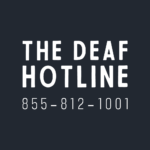 Virtual Training Request
If you are located in Washington state, contact us for an in-person training provided by ADWAS.